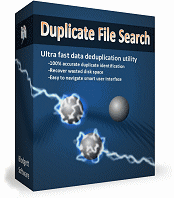 Learn about our file deduplication software
Instantly find duplicate files using the ultra fast Duplicate File Search software. Duplicate matches are completely accurate using our true match binary matching algorithm. Quickly and easily purge duplicate files from your computer to free up disk space and remove file clutter. Deduplication of data will optimize your computer by removing duplicate files that slow down indexing and backups.
Our data deduplication utility comes packed with every option you will need to find the duplicate files wasting space on your computer and gives you the tools to remove those duplicates from your computer fast!

Download

Buy now

Screenshots

Features
Duplicate File Search comes with all these amazing software features!
System
Stand-alone application EXE file
Auto detecting 64 or 32 bit program support
Create duplicate file search projects to store all your configuration settings
Compatible with Windows 7
Automatic system specific optimization to achieve fast execution performance
Search
100% accurate byte by byte comparison of duplicates
Ultra fast duplicate finding algorithm
No limitations on number of files to search, file size, folders or drives
Large file support
No limit to the number of duplicates that can be found
Support for multiple paths to search for duplicates
Support for separate source and search folders
Search across multiple computers
Search all removable media such as USB drives, CD, DVD, and attached devices
Security and Data Protection
Protect your important system data by built in exclusion paths
Customize default exclusion paths
Protect your data by limiting results to specific file attributes
Exclude files with a specified set of file extensions or matching file pattern
Exclude files between a specified modified or created date
Exclude files between a specified file size
Stops the user from deleting all copies of a file
Search Filters
Find files limited to a specified file mask
Create your own custom file search mask
Limit results to files modified between a minimum and maximum date
Limit results to files created between a minimum and maximum date
Find duplicate files even if the filename doesn't match
Find duplicate files that have the same filename or extension
Filter out empty files
Limit results to files between a minimum and maximum file size
Search Results
Copy, delete, or move duplicate files
Delete files to the Recycle Bin
Preview files before deleting them
Save scan results session for later resuming
Use filters to easily select files that you want to take action on
View file sizes
View space used by duplicate files
Allows manual review and selection of the duplicates to take action on
Open the folder containing a duplicate file
User Interface
Simple and easy to use user interface layout
Organized and grouped features
Sortable path selections
Smart UI enables and disables choices depending on your selections to reduce confusion
Sort results by file size, number of duplicates, total bytes duplicated, filename, modified date, and created date
Reports and Logging
HTML duplicates report
Export to XML
Export to csv file format
Export to standard TXT file
Help and Support
Detailed online help file with complete UI explanation
Free technical support to all users of our software